Bangkok
Bangkok's heat presses down from the humid night sky, browning out sharp thinking, slowing the pace of life, and bringing a sheen to exposed skin. The heat radiates out of the pavement and the street food and the kindness of the people as we find ourselves street side with steaming bowls of Kuai Tiao (spicy beef noodle soup) and the greatest of pleasures—good friends far from home.
Vast and sprawling, we experience only a sliver of a sliver of this great Southeast Asian city—sampling tourist attractions, everyday life, and food. So much good food! Traveling often makes you aware of how life revolves around getting from one meal to the next and Thailand is the perfect place to just embrace this notion to it's logical extent—bridging hotel breakfast buffets and lunch with walking fruit bought from street side vendors and served in a bag with a wooden stick to stab the pieces: pineapple, watermelon, papaya, guava, rose apples, dragon fruit, mangosteens, lychees, longans, rambutans, multiple varieties of mangos and bananas, and many others that we don't recognize. The fruit is always ripe and sweat and a delicious complement to the sticky heat. Ellery has a real thing for mangos so we buy and experiment with a number of varieties from the dripping sweat yellow standards to the crisp and tart green mangos. Kate, always the adventurous eater, forges out into new territory — one day a green, sour (pickled?), thumb-sized fruit a bit like a large caper berry that was served with a small bag of sugar and ground chilly pepper for dipping.
And then it's time for lunch! Basil chicken with fried eggs on rice or Pad Thai followed by afternoon snacks: larb flavored pretzel sticks, banana crunchies, dried mangos, beans. Before moving on to dinner: Tom Kha Gai (coconut soup), fried crabs, or a full international cuisine: Sukiyaki, Korean fried chicken. And then later, or anytime really, it's coconut ice cream (sticky rice, coconut ice cream of various flavors, peanuts, condensed milk) mango sticky rice (sticky rice covered with a full fresh cut mango and topped with condensed milk and crispy rice), or fresh fruit smoothies.
As tourists, we wander the halls and grounds of the Grand Palace, gazing up at the emerald Buddha, navigating the mobs of Chinese tourists, and hire a boat to explore the klongs—canals that run like streets through the city. As purveyors of everyday life, we ride the sky train and experience IconoSiam (tagline: The icon of eternal prosperity of course), a massive mall accessible by a ferry, where you can buy a Maserati and then stroll through artificial canal-side street markets complete with vendors hawking their wares—though at mall-level prices, but with AC! We observe the monks out collecting alms (Louisa has a small conversation with one on the BTS), walk the streets of K, A, and K's neighborhood, explore the non-tourist markets, eat street side and in small cafes around the city, warm houses of friends of friends, and make a strong contention for the "swim every day" award (though I must note that the bobbing part of the daily dive makes me exhausted just watching).
And then we take the night train from Bangkok to Chiang Mai, getting surprisingly good sleep bookended by gazing out the windows—the last light of the day giving glimpses into the shanty towns on the outskirts of Bangkok and the first light of the morning reflecting green jungle and mountains as the train pulls into the station.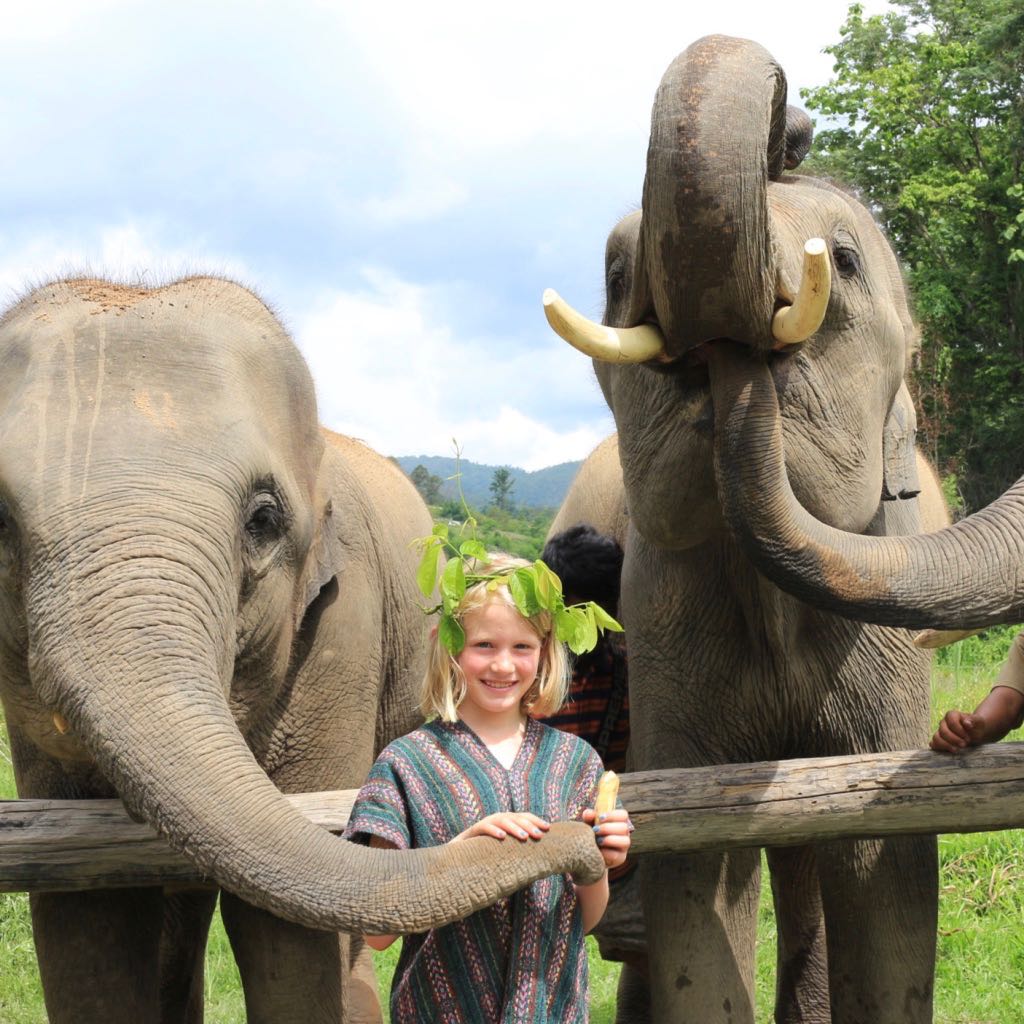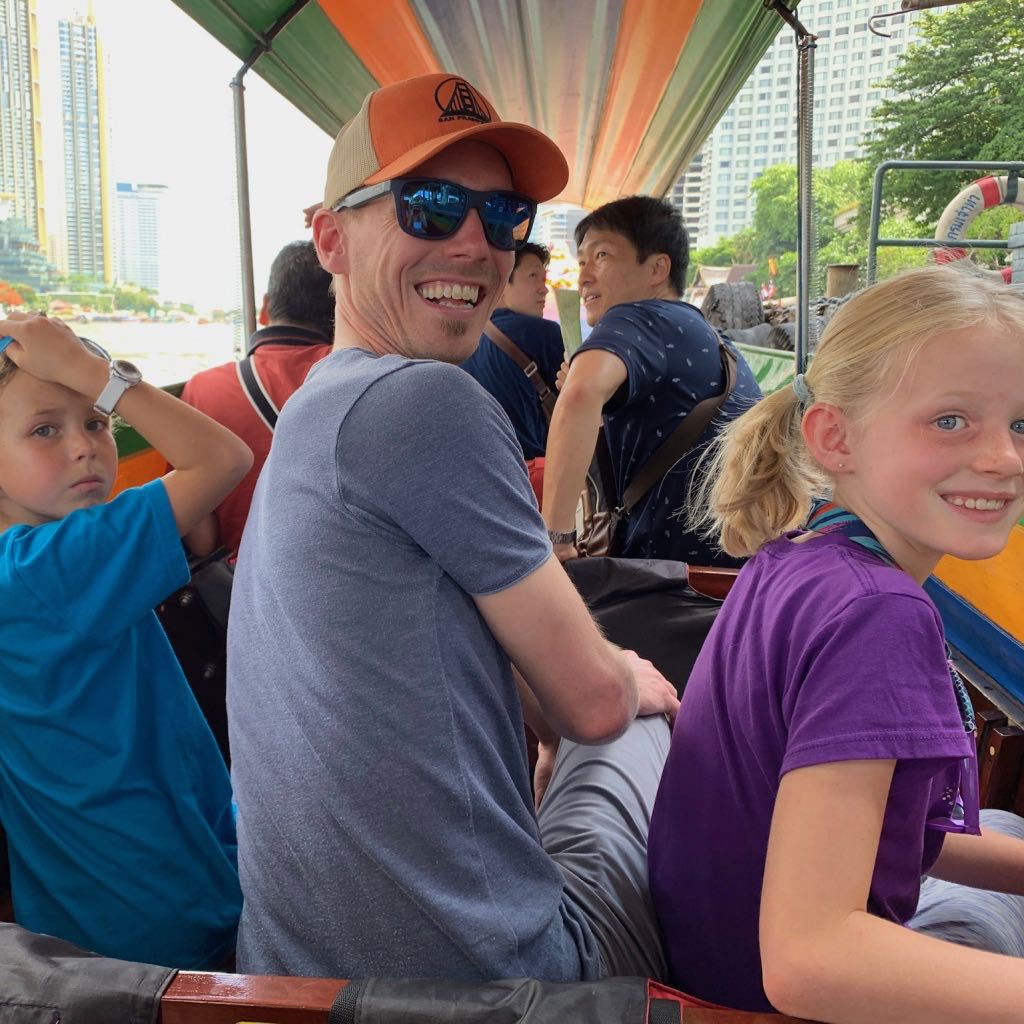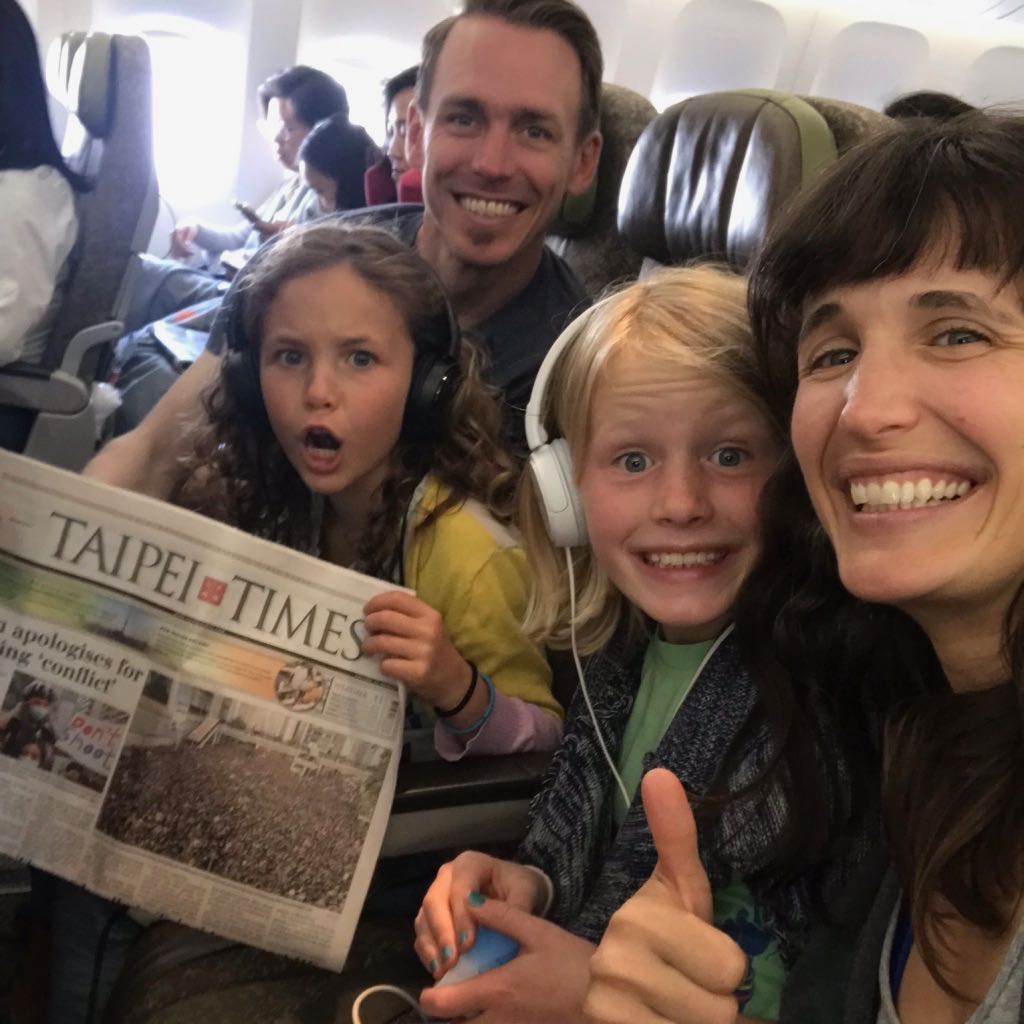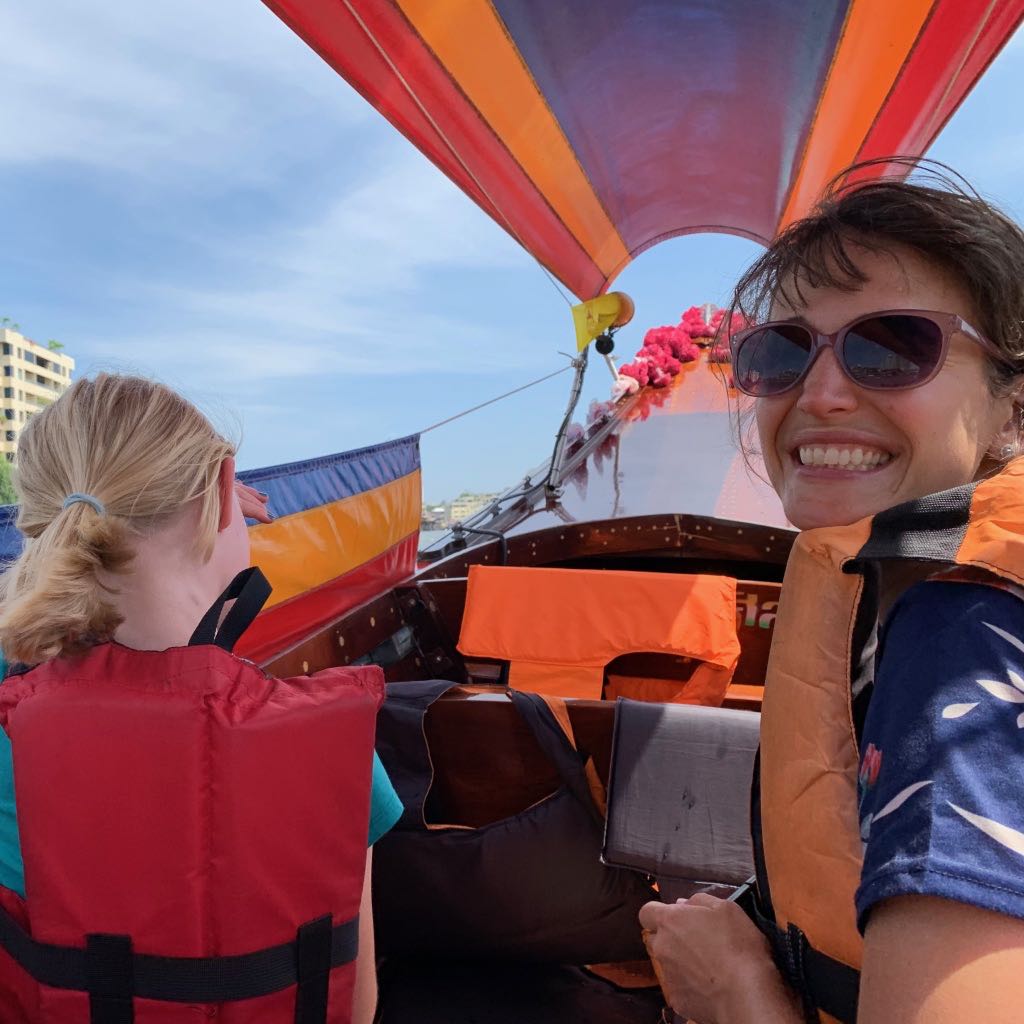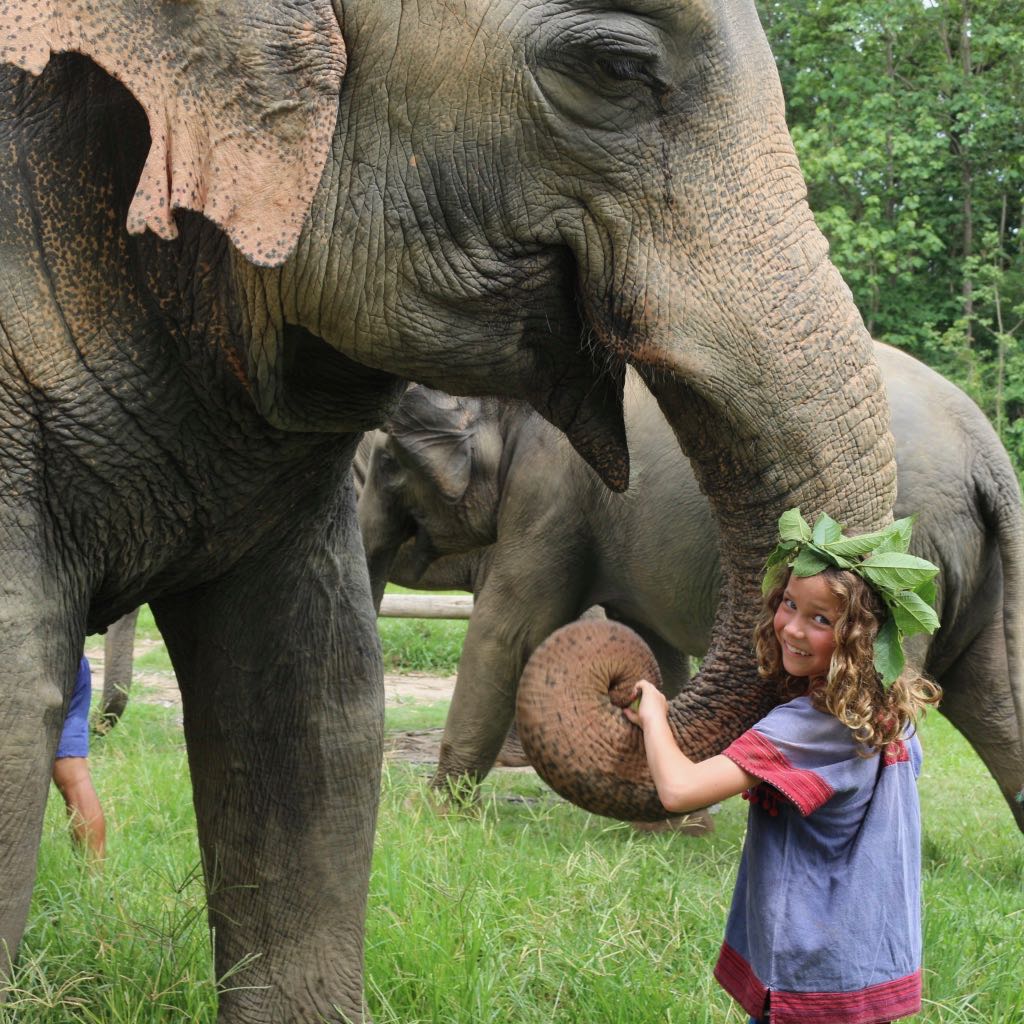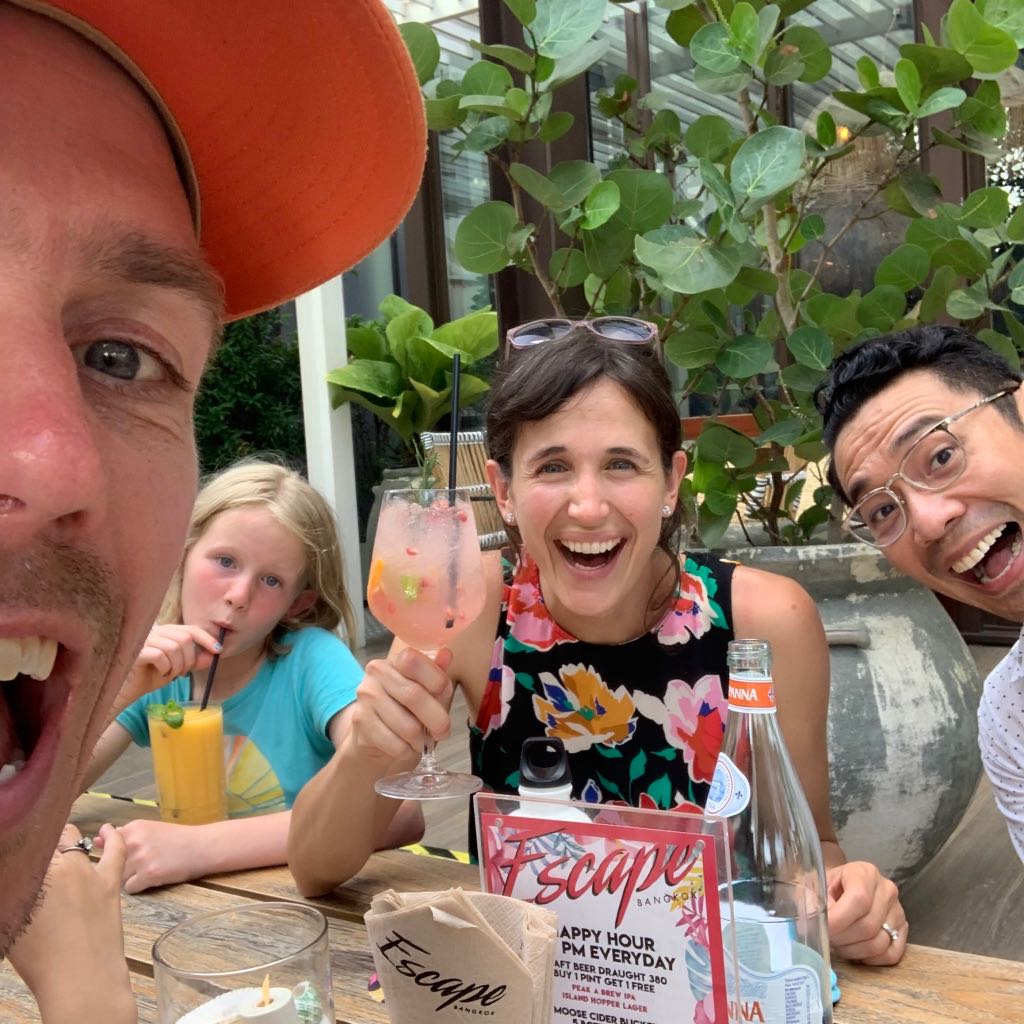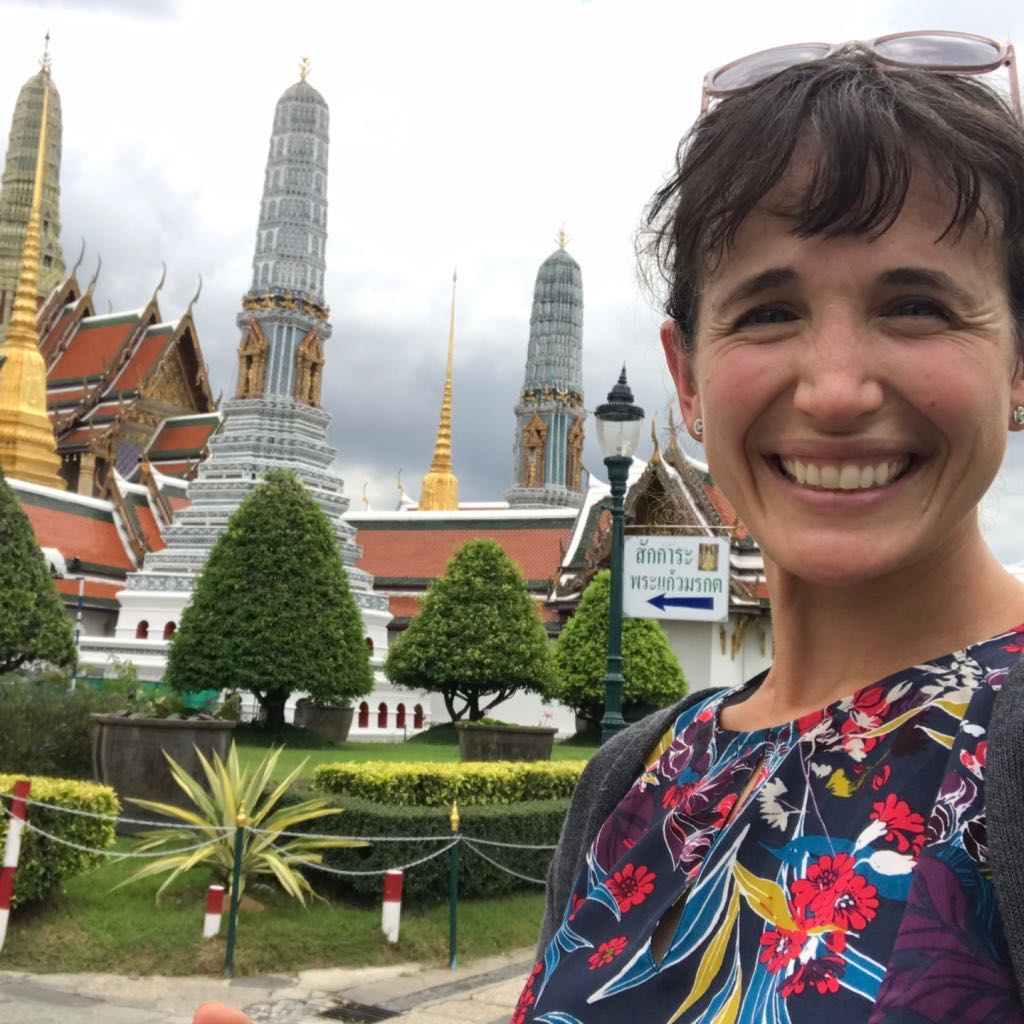 Chiang Mai
Chiang Mai brings new sounds and sensations. The bright and insistent gong from the Wat right next to our house wakes me at 4:30am (but only the first night) and is but one of the novel street noises in the old city as we fall asleep. Dishes clink with soft conversation in Thai from one side, cicadas belt out their dissonant calls on the other, every now and then a motor scooter purrs by—much quieter than the Hell's Angles that ride by our place in San Francisco.
At Wat Phra Sing, monks sit like statues and in an adjacent building some of them actually have turned to bronze—still unmoving in their meditation. In the main temple, the Buddha's eyes draw us in and turn our attention inward, if for only a brief moment.
At the public park just inside the old town wall, the community is out in force—streams of people lap around the perimeter path, stopping at workout stations every 10 feet. A pick up futsal game with car tires balanced vertically as goals is in play, and a Sepak Takraw match (like volleyball but with your feet) is just starting up. There's AcroYoga on the grass, a rumba-like dance/exercise class going on, a playground full of kids, and scores of fish roaming the pond for picnickers with extra to share.
We eat dinner on the street, Louisa survives on fried eggs and fruit, storing up whenever there is a breakfast buffet with french toast. Ellery tries just about everything once and then sticks to the meat. For dessert, Kate buys roasted bananas on a stick from a little, hunched-over lady with a charcoal grill diligently turning her skewers.
In the mountains outside the city we meet people from the Ethnic hill tribes and spend a day with a small family of elephants—feeding and bathing and caring for them. The encounter is up close and hands on—dexterous trunks grabbing for small bananas out of your hands, huge elephant bodies pushing against yours, soft tongues, wide flat molars, bristly hair, flat tails like bottle brushes on a cord, tips of trunks like alien creatures with two holes and a thumb like grasp, surprising grace and awareness, those obviously intelligent eyes, and a joyful playfulness. One of the babies, naughty boy, is always running away—picture a 1.5 ton juvenile elephant loose on your property! The largest female mama elephant is 13 (out of 24) months pregnant and you can see and feel her baby stretching her skin taught. We feed them pretty much constantly, pausing only for our own lunch and a lively mud bath—the 4 of us waist deep in mud with 5 elephants rolling blissfully around in the muck before we all head to the river to wash off.

Krabi
And then we head south to find ourselves in another world, accessible only by boat just outside of Krabi, where the sky is big again and the Andaman Sea shoots out limestone crags that are startling and picturesque—pale yellow/white rock with green life in every crevice, dramatically set off against the aquamarine.
The sensations here are again new. The water is so warm that we debate if the air is actually colder or if it's just the evaporative effect of your wet skin. Ellery dives right in with confidence, ducking under waves and independently catching a few body surfs. Louisa gets a full spectrum of ocean experiences—initially shy to swim, complete delight as she overcomes her fear and body surfs for the first time, and then terror as she and I both get stung by a jellyfish (not dangerous but certainly an interesting sensation: lingering sharp, needling pain). Back to where we started, I guess. Ellery gets stung later too (much screaming), but everyone seems to recover all right (vinegar takes the sting out).
We snorkel for the first time with the girls. Ellery takes to it immediately, head glued underwater following the fish around, grin spilling out from under her mask. Louisa is not so sure at first (too much equipment, the mask is uncomfortable), but then makes a friend with one of the Thai boat assistants who shows her around underwater while she wears her swimming goggles and holds her breath (I saw nemo dad!, sigh). Kate finds a school of squid that she follows around and I'm intrigued by these long needle-like fish (2-4' in length, incredibly pointy) that make Kate nervous—she can only think: barracuda!
Back at the resort, life teams as well. My favorite regular sighting: a rather large water monitor (in the same family as the Komodo dragon, but only 4-5' long, though big ones can be 50kg) that the girls first see at the top of the water slide (again, much screaming), but then we catch sight of a number of them around the property just going about their business. We walk the monkey trail (to the beach with the jellyfish) and promptly show up for happy hour everyday (though we're ashamed to admit to Alli that we missed it the first day). Throughout all this, the limestone cliffs loom over us—a dramatic half circle trapping us between them and the water in what has to be the most beautifully exotic place I've ever stayed. It's monsoon season, though we manage to dodge the rain, which means the resort is quiet. The undulating dock is a source of constant entertainment as guests come and go—rolling and bouncing like a fairground ride. We don't see anyone fall in but they must loose people and luggage into the water every now and then! Our departure at 6am on a private long tail boat at sunrise is stunning with the sea and cliffs glowing from first light as we motor away to the final leg of our trip.
Taipei
We spend our last 48 hours in Kate's birth city: Taipei, our lodging the historic Grand Hotel where a one-year-old Kate took her first steps on the landing of the iconic red carpeted staircase in the lobby. The hotel is superlative. Our room has sweeping views of downtown Taipei and the halls and common spaces are covered with orchids, artwork, dragons, ornate carvings, and architectural details.
Out and about in the city, we gaze at the jade cabbage and other treasures in the National Palace Museum, hunt down brown sugar bubble tea, ride the MRT, and experience monsoon season first hand by soaking our travel clothes right before catching 16 hours worth of flights home. But the highlight by far is an evening with San Francisco friends who are home for the summer in Taiwan. Dinner is a feast of some of the best food of our trip: fried rice and noodles, clams in a ginger garlic soup, roasted snails, squid, fried oysters and shrimp, asparagus with crabs, sea cucumber, and half a goose. Ellery and Louisa both venture out into new culinary territory, egged on by their peers. Kate and I drink it all in as the last few hours of our trip slip by. The kids pair off with school friends and explore the night market, playing carnival games and eating shaved ice (frozen condensed milk shaved thinly with fresh fruit). It's still hot, but I don't notice anymore—maybe just adjusting to the warmth of the culture and the incandescence of good friends.

Photos by Tim Clem, Kate Clem, Anita Roth, and Chiangmai Elephant Legend staff